Dancing Goat Cashmere
For the utmost in cashmere luxury, Dancing Goat offers cashmere products from the goats of two small Maine farms.
We provide clowd for the handspinner, yarn for the knitter, and finished clothing for those who want to enjoy the feel of minimally processed cashmere close to the skin. We aim for cashmere with a thin fiber and lots of crimp, so that the yarn will trap a lot of air and the garment will be light, yet warm.
Dancing Goat products come from the cashmere of goats from the Black Locust Farm in Washington, Maine, and Bryn Glas Farm in Warren, Maine. The goats are treated as individuals, and are gently combed for their cashmere, not sheared. We are always happy to have visitors.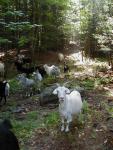 Dancing Goat Cashmere Down Products
Dancing Goat Cashmere Goat Pelt Products
Dancing Goat Cashmere Finished Products